The price of the meeting place
How does the meeting place work?
The Ribambelle meeting place is a place for exchange and listening to toddlers aged 0 to 6 years old accompanied by their parents or by those who usually take care of them.
The operation of the meeting place is ensured by a team of volunteer mothers. No registration necessary. Children remain the responsibility of the adults accompanying them. Their companions also take care to maintain order (by storing the games/toys taken out by their child(ren)) and the cleanliness of the premises. They respond by themselves to the needs of their child(ren) (WC, hunger, thirst, security, games, etc.).
You can ask for specific material from the volunteers on site if you want to do a structured activity with your child(ren) such as: painting, modeling clay, coloring, etc.
Water, coffee, tea, syrup, fruit and cookies are provided. Do not hesitate to serve yourself! 🙂
A space for children and parents
It is a place to spend time together, play, discover, share, exchange joys or difficulties, gently prepare for future separations and community life or simply take a break.
It offers a space of security and confidence to the child and their family. It allows you to create a network, exchange advice and share good times.
Practical information
Monday – Tuesday – Wednesday – Thursday – Friday 8.45am – 11.30am / Wednesday 2pm – 5.30pm
Without registration
For children from 0 to 6 years old
Cash or Twint payment
CHF 50 annual registration fee per family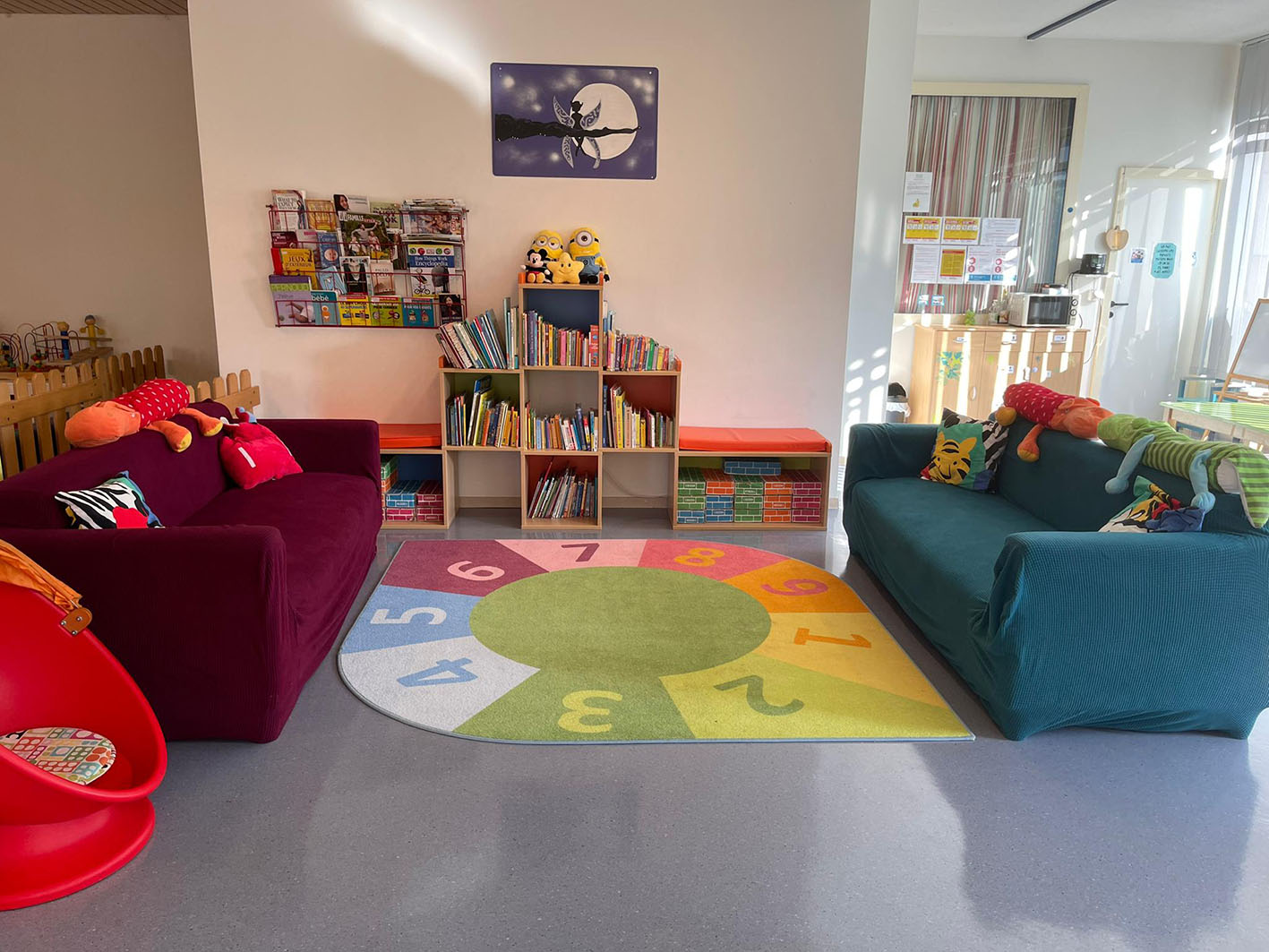 Does La Ribambelle have a kitchen?
La Ribambelle has a kitchen accessible to all. It includes a fridge, microwave, kettle, Nespresso coffee machine, crockery, services, baby tables and chairs.
We also offer free drinks (water, coffee, tea and syrup).
Can we buy a gift card?
We offer gift cards to please young and old.
Please contact us via the contact form .
Is la ribambelle open during the holidays?
The drop-in center and the meeting place are closed during school vacations. The Ribambelle room remains available for rental for birthday parties during all school vacations.
What are the hours of the meeting place?
Mondays, Tuesdays, Wednesdays, Thursdays and Fridays mornings from 8:45 to 11:30 am and Wednesdays afternoons from 2:00 to 5:30 pm.
What about snack time?
Water, coffee, tea, syrup, fruit and cookies are provided. Do not hesitate to serve yourself! 🙂
How can you reach a committee member?
How to become a volunteer?
You can drop by La Ribambelle during opening hours and ask a volunteer to join our team or contact us via our contact form.
We are already looking forward to meeting you 🙂
Engaging as a volunteer at La Ribambelle will allow you to:
to socialize and join a great team
to reintegrate the professional environment smoothly (certificate of volunteering)
to enjoy the meeting place for free
benefit from a preferential rate for daycare
to use the room free of charge for your children's birthday party
…and lots of other benefits!
Can we buy a loyalty card?
Yes, you can buy a loyalty card for 11 tickets at 100.- (i.e. 9.- the ticket) or 25 tickets for 200.- (i.e. 8.- the ticket).
With the purchase of a loyalty card of 200.- the annual registration fees are offered to you.
What about the bathroom?
A changing area is available for toddlers as well as adult and children's toilets with booster seat and potty.
Is there a cloakroom?
Yes, remember to mark your personal effects and make sure you don't forget anything.
Is there a nap place at the meeting place?
We do not have a specific nap corner. However, for the little ones we have deckchairs available.